Justine answers all your trading questions. Click on any of the questions below for their answers.
How can I start learning to trade, using Technical Analysis?
Can you explain your trading strategies?
Do I need to buy MetaStock to use charts?
How can I buy MetaStock?
How can I develop a Trading Plan?
What are CFDs?
Tell me more about your Ultimate Smart Trading Mentor Course?
Do you offer ongoing support after training?
Can you advise me on which shares to purchase?
How can I track & record my trades?
Glossary of common terms

---
How can I start learning to trade, using Technical Analysis?
Technical analysis (also called charting) has become more popular than ever with the availability of computers, highly sophisticated charting software and the internet, which now brings live market data to us all.
I make all my trading decisions using charts. I can simply look at the chart of a share and understand its health, just like a Dr can look at your blood tests and understand your health.
To help you read charts and find healthy shares I have designed a course just for you, it's called the Smart Charting 101 Online Course. The course includes a comprehensive course handbook and a selection of ten supporting videos on key chapters in the handbook with exercises so you can put your knowledge into practice and develop your own set of trading rules for entries and exits. All this is available for a very small cost of $97.
The good news is that you can get started right away and study from the comfort of your home and learn all you need to know about charting and much more. You will never look at a share the same way again!
Once you have completed this course, you can take your technical analysis knowledge to the next level and develop mechanical trading systems. I share all my trading systems and strategies in the Ultimate Smart Trading Mentor Course. In this course I will guide you to create your own trading plan and develop a mechanical trading system utilising software such as MetaStock and Excel. I also provide ongoing support throughout the year to my clients through the Smart Traders Mastermind program. So I am with you every step of the way to ensure you stay on track with your trading success.

---
Can you explain your trading strategies?
I trade the markets with a mechanical approach. I have MetaStock set-up with a mechanical filter to scan for entries and a trailing stop loss indicator for exits. As well as incorporating a range of money management techniques to size my trades, manage my maximum market risk and maximise my winning positions through pyramiding – all these strategies, including my trading strategies, are covered in the Ultimate Smart Trading Mentor Course.
To give you an idea of the systems I have developed and personally trade, below are charts from MetaStock. The entry signals provided by the system are denoted by an arrow and the exit is shown by the purple line. The goal is to enter initially on one of the first few entry signals provided and exit when it crosses the purple stop loss line.

Weekly Trading System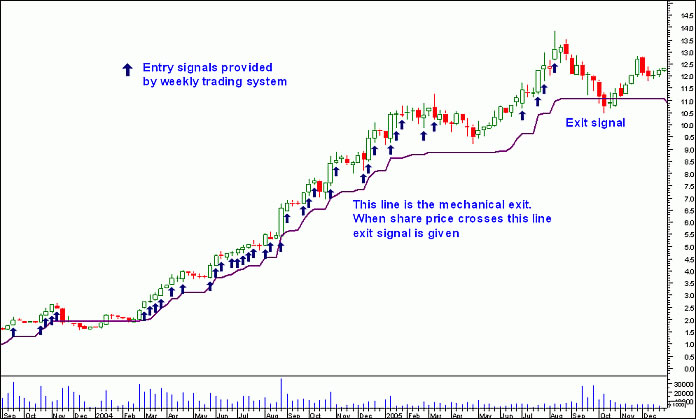 Source: MetaStock
The first system shown here is my weekly long term trend following system. The goal of the weekly system is to keep you in the long term trend of the share and to remain with the trade until it becomes unhealthy and an exit signal is provided. The hold time ranges from a few months to possibly a year or two. This system involves running a MetaStock scan on the weekends looking for shares that meet certain entry criteria and requires approximately half an hours work a week.

Daily Swing Trading System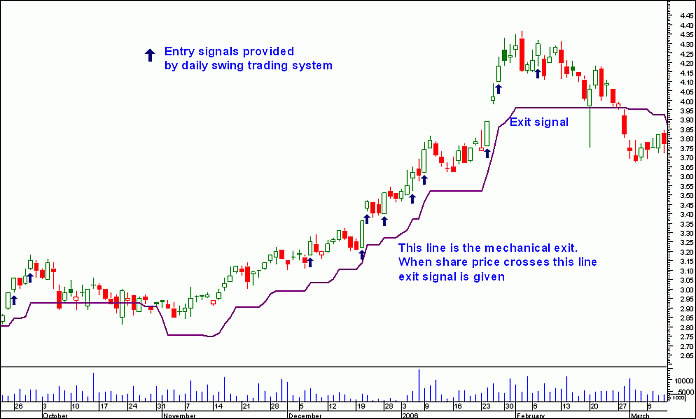 Source: MetaStock
The second system is my daily swing trading system. The goal of this system is to trade a swing move in an already trending share. It is ideal for trading CFDs and has an average hold time of 21 to 30 days. This system involves running a scan once a day and involves only 20 minutes of my time per day.
Both systems can be traded long and short.

---
Do I need to buy MetaStock to use charts?
No you don't. MetaStock is one of the superior platforms in the market place that allows you to view charts and develop your own trading systems. However, for beginners it is not necessary to go out and purchase it.
Most online brokers offer the facility to view charts of shares, however, they don't allow you to change the chart in anyway or scan the market. There is a website available that offers free software that you can download to view all Australian shares – it's called Incredible Charts and is a good program to start with.
If you do decide you want to purchase MetaStock then read on for more information on how to do this.  If you have another charting package you may still be able to code it with my trading system scans if it has those capabilities. In the Ultimate Smart Trading Mentor Course I explain what each line of my MetaStock exploration code means so you can look at coding it into another software program if needed.

---
How can I buy MetaStock?
The best place to purchase MetaStock in Australia is through Oracle Traders.
Their service is top notch. When you call make sure you mention Smart Trading and you will get a free upgrade to snapshots data.
Craig Kirby
Oracle Traders
Website: http://www.oracletraders.com.au/
Email: craig@oracletraders.com.au
Phone: 1300 299 603
Oracle really go above and beyond for my clients and even spend time on the phone to help you get set-up if you need it. This is what one of my clients had to say after buying MetaStock through them:
​​"​​​​​Thanks Justine for putting me on to Craig at Oracle Trader to buy MetaStock. I've now got Metastock up ​ and running with Craig's excellent help – I'd like to put in a 'rap' about how very, very knowledgeable, patient & helpful he has been in assisting me to get it set-up!"
​Sam M​ainardi, VIC
MetaStock is very powerful and a beginner may lose themselves in the maze of the various features of the program. If you need help in getting MetaStock set-up, Smart Trading has an online course on how to find your way through Metastock called the Maximising Metastock Online Course.
---
How can I develop a Trading Plan?
Trading is a psychological endeavour and it is what goes on inside your head that drives your market actions. Your goal is to take the emotion and guess work out of your trading and have a clear plan with the aim of trading the market in a disciplined and consistent way.
Developing a trading plan is a big task and well worth the effort once it is finalised. Most people who purchase shares do not have a trading plan and trade the markets with no clear guidelines. This is the difference between amateur traders and professional traders. If you want to trade like a professional, you need to develop your own personal trading plan.
For more information on developing a trading plan get a copy of my book Smart Trading Plans – a step-by-step guide to developing a business plan for trading the markets. The book is complete with Smart Action Steps, case studies of actual trades and a bonus trading plan template for you to work through as you read the book.
If you want to know more about my trading plan and get set-up with my trading systems, then check out my Ultimate Smart Trading Mentor Course. I share my personal trading plan and all my strategies in this course.
---
What are CFDs?
CFDs are Contract For Difference. It is a contract between you and your CFD provider. A CFD offers the benefits of trading shares by mirroring the performance of the share or index, without physically owning them. It is similar to trading shares, but with some important advantages such as leverage, easy access to a wide range of global markets, the ability to short sell, etc. You can find out more about CFDs and what they are by clicking here.
I trade CFDs with my daily swing trading system. If you decide you want to trade CFDs you have to choose a CFD provider and set-up an account in order to start trading. There are a range of CFD providers in the market place and you will need to select one that suits you.
As a trader there are certain things I look for in a CFD provider and I have researched and traded with different providers over the years. To find out more about my chosen CFD provider click here.
Be aware that CFDs are highly leveraged instruments and carry a high degree of risk to your capital. It is possible to lose more than your initial investment. You should only speculate with money you can afford to lose. These instruments may not be suitable for all investors, therefore ensure you fully understand the risks involved, seek independent advice and fully read and understand the relevant Product Disclosure Statement.

---
Tell me more about your Ultimate Smart Trading Mentor Course?
The Ultimate Smart Trading Mentor Course is a 13 session online course that includes 15 webinar video sessions, mp3 audios, comprehensive course notes, supporting short videos, trading plan template and other special bonuses.
The course is aimed at refining your technical analysis skills, assist you in developing a trading plan, teach you about the key aspects of successful trading – money & risk management strategies – and get you set up with a mechanical trading systems utilising a software package such as MetaStock. So that you have everything in place to scan the market and find shares or CFDs that meet your trading plan criteria. Then apply a stop loss indicator to manage your trades and take the guess work out of when to exit.
This is the course in which I share my personal trading plan and teach you exactly how I trade the markets. Plus I provide ongoing support to you through my Smart Traders Mastermind program. I want you to get inside my head and understand how I trade the markets. If you have any questions or would like to discuss the courses in further detail, please do not hesitate to contact me.

---
Do you offer ongoing support after training?
When you purchase the Ultimate Smart Trading Mentor Course, you also receive one years membership to the Smart Traders Mastermind. This is an exclusive membership program which I provide continued support and mentoring through monthly market update videos, regular webinars and a private discussion forum. I regularly share my trades with you in this program and it's an opportunity to continue to reinforce your knowledge and see exactly how I apply the principles I've taught you into my trading.
You also have the option to continue your Smart Traders Mastermind membership each year and you will be sent an email when your membership is due to expire. I have had clients that have been Mastermind members since the program started in 2007.
Plus, if you would like any extra help at anytime I offer personal one-on-one mentoring to clients only. This is available at an hourly rate. These personal sessions can be used to review your personal trading plan, review your trades to date to see if I can identify any weaknesses and ensure you have everything set-up correctly in MetaStock.

---
Can you advise me on which shares to purchase?
Smart Trading Pty Ltd is a Corporate Authorised Representative of Dynamic Capital Trading Pty Ltd (ACN: 108 185 575) (AFSL: 495685) and as such any information is provided as general advice only. We do not provide any personal investment advice and do not involve any recommendations in relation to your personal financial circumstances or investment needs, or the current or future value or prospects of any securities or securities markets.
The information provided is exclusively for the purposes of education and general discussion so that you can make your own investment decisions in the stock market. The goal is to enhance your abilities as a trader and develop your skills so that you can produce your own personal trading plan and make your own decisions in the market.

---
How can I track & record my trades?
Smart Trading has developed a specialised Excel Spreadsheet called the Smart Trade Tracker to do exactly this. It is a specialised trade management tool designed to make it easy to manage your trading systems by effectively tracking, analysing and evaluating your performance in the market.
Trading is a business in itself and one of the keys to running a successful business is maintaining good records and regularly analysing the performance of the business. You need to measure your actual trading performance (not just your bank account balance) in order to manage your trading business effectively. This will provide you with the reality of how you are performing in the market and if any changes need to be made to your strategy.
---
Glossary of common terms
If there are any terms you do not understand, please go to the Glossary.