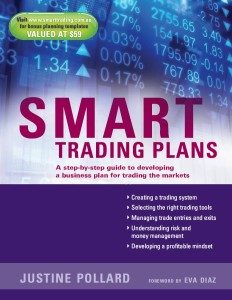 Trading is a business and for a business to survive and prosper it must have a plan. But how do you develop a plan for trading? Where do you start? And what do you put into a trading plan?
Smart Trading Plans will steer you through the process of creating your own personal trading plan, increasing your chances of success in the market.

Listed as one of the Top 10 best-selling finance books in Money Magazine
Includes FREE bonus planning templates valued at $59.00
Author: Justine Pollard
Publisher: John Wiley & Sons (Wrightbooks)
Price: AU$39.90 (includes $6.95 postage & handling within Australia only)
ORDER YOUR COPY NOW!
(Australia only)

To buy your copy in kindle version




You can also buy electronically in kindle version from Amazon or other bookstores such as Booktopia.

In this step-by-step guide you will discover how to:
Create your own personal trading system
Select a suitable trading style
Develop a trading routine
Use technical analysis to improve your trading
Apply sound risk and money management strategies
Manage your trading business
Develop strategies for entries and exits
Analyse your trading performance
Create a profitable mindset
Become a peak performer in the markets

Complete with Smart Action Steps, case studies of actual trades and bonus planning templates, SMART TRADING PLANS is essential reading for all savvy traders.

Buy Now – $39.90
You can pay for the book online right away through the secure Paypal website.


Note that you do not need to be a PayPal member to pay via the Pay with credit or debit card link on the checkout page.
If you prefer to pay via direct debit simply email us here, with your details as follows:
Your name
Your address
Product(s) you would like to purchase
Preferred email address to send the order to.
On receipt of your order an invoice will be emailed explaining how to arrange direct payment.
Delivery
Once payment is confirmed, the book will be posted to you via Australia Post.
Postage costs to send outside Australia are very expensive. If you are located outside Australia you can purchase a copy of the book from Amazon or a bookstore in your own country. You can also buy electronically in kindle version from Amazon or other bookstores such as Booktopia.

Rave Reviews*
"I am writing to give you my heartfelt thanks for your Smart Trading Plan book. It is amazing because I am totally new to trading and I have learned from this book many things not only about trading but also about disciplines required to be a successful trader, certainly that cannot be explained by words."
Emil Silva, QLD

"Many thanks Justine, I have your book Smart Trading Plans and I have found it to be the best insight to trading that I have ever come across. I have been trading for many years and keep coming back to your book to keep me on track."
Jimmy Gilchrist. South Africa

"Justine, I love your book! I admire you, the way you teach, your honesty, and your general care for the willing amateur traders. I have had a remarkable amount of growth in the past week, after purchasing Smart Trading Plans. Thank you. You are an ANGEL!"
Stuart Cook, QLD

"I have read so many trading books and I found your book to be one of the best. I found it simple to understand and it brought everything together. I hope that you publish books in the future as I would be keenly interested in reading them."
Anthony Carapellucci,VIC

"Your book is brilliant! Step by step you have laid out what it takes to succeed. I can't thank you enough for sharing your priceless insights."
Dinesh Chandran, VIC

"I recently finished your book, Smart Trading Plans, and wanted to congratulate on your fine work. I found the book extremely helpful and really drilled home the importance of planning in ones trading. From your work, I have devised my own plan and am now trading my own fund using a clear and laid out methodology."
Austin Mitchum, NSW

"When I decided to start my trading journey, I read many books about trading and investing. I was overwhelmed by all the information and still did not know what to do. After I read Smart Trading Plans, I knew where to go from there. Your book is my guide for my trading plan and system setting up. I would like to recommend this book to all the traders, especially the beginners."
Hannah Feng, New Zealand

"Your book, Smart Trading Plans, which I bought has been an enjoyable read and I have learnt more from your book then any other book that I have read."
Ron Romeo, VIC

"The information and topics covered in your book Smart Trading Plans has been invaluable to me in creating my trading plan. I now have a plan which I believe gives me an edge in the market I wouldn't of had otherwise. I am now committed to putting my plan into action and developing my skills as a trader so that I too can become a successful and profitable trader. Thank you for the book, bonus templates and all the quality information which has helped me in my quest to become a successful trader."
Jacob Butler , QLD

"I've just recently purchased your book 'Smart trading plans' and thought it was great! …one of the better ones in Australia. You've presented the information very clearly & backed it up with solid examples & figures. I'll be putting this one on my 'must have list' for my friends & anyone interested in trading as a recommendation."
Goran Stankovic, NSW

"Thanks for your book SMART Trading Plans. It is really excellent. Your book really made it easy for me and it was the first time I have managed to actually complete my trading plan since I started trading 3 years ago. I found a lot of weak areas in my trading and came across important areas that I realized I had not thought through properly at all."
Shane Hogan, VIC

"I borrowed your book, Smart Trading Plans, from the library and must say that it is the best book on share trading I have ever read."
Ilona Barry, QLD

"I was on a lose-recover-lose-recover mode until I read your book, Smart Trading Plans. Now I have fully recovered all my losses. I have put in stop losses, as per your book to control the stock, that I had bought prior to reading your book. I am making a slight profit, because I have locked in with the trailing profit and initial stops. This small profit is real and a very valuable achievement, because it is on top of recovering all my losses and I know that because of what I learnt from your book about stops the market can't take away this gain. What an exhilarating feeling! I humbly thank you. "
Martin David, Malaysia

"I have just finished reading your book, Smart Trading Plans, and it is the best book I have read so far. It was really easy to read and you explained everything in a way that I could comprehend. I found the smart trading plan template extremely useful as it makes you think of a trading strategy instead of trading blindly so to speak."
Michelle Lane, NSW

"I have just finished reading your book Smart Trading Plans and what a great book it is. It is packed with honest and real information that we all need as a trader. I would like to say thank you in sharing your knowledge and experience and I can imagine that your course would be great as well."
Alex Marre, NSW

"I have read many books on trading and most stress the point that you must have a trading plan. It must be a written plan and you must stick to your plan. But, none of them explained what needed to be in the plan and how it should be laid out. So thank you very much for writing Smart Trading Plans and for showing me what a plan might look like and how to go about developing one. Your book has guided me to develop my own personal trading plan."
James Neill, New Zealand.

"Smart Trading Plans is the best book I have come across for developing a complete trading plan. My plan is a mish mash and all over the place. Your book has shown me how to do it in an ordered way, not missing anything out. I can see a way now to get my plan up to date. Thank you."
Michelle E, QLD

"Just a note to let you know I appreciate your help since Sunday 28th September 2008 since I purchased your book, "SMART Trading Plans", and the Smart Charting 101 Course. Nothing else compares on the market. Since then I have always been profitable in the market thanks to your professional knowledge which you shared in abundance in these two world-class products."
John Ferrito, VIC

Click here to read more rave reviews



*Testimonials appearing on this website are based on individual experiences only and results will and do vary depending on individual circumstances. We do not make any representation that these results are typical and are not necessarily representative of those that have or will use our products or services. Please refer to the disclaimer at the bottom of this website to understand the risks of trading in shares and CFDs.