About
Who is Justine Pollard?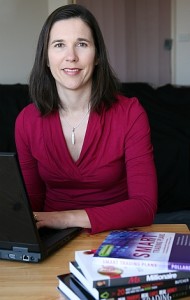 Justine Pollard is the woman behind Smart Trading. She is a professional stock and CFD trader that is extremely passionate about sharing her trading strategies and assisting other budding traders in the markets, so they too can discover the smarter ways to trading.
Justine has come a long way from the eighteen-year-old girl who invested her savings in the stock market as a hobby over 25 years ago. This hobby then became a full-time career in 2001, when Justine decided to take the plunge and leave her full time job to become a full time trader. In that first year of full time trading Justine tried and tested the markets with many different trading styles, instruments and techniques before settling on trading shares with a long-term trading system and CFDs with a medium term swing trading system. From her experiences in trading, Justine refined her very own trading technique.
Justine is a trend follower that uses strict money management rules in order to take advantage of trending shares. She believes that trading is all about letting the profitable trades run and cutting the losses quickly. Coupled with her success in the stock market, Justine is also the best-selling author of Smart Trading Plans. The book is a step-by-step guide to developing a business plan for trading the market. It has been hailed as one of the Top 10 Best Selling Finance Books in Australia's leading finance magazine, Money Magazine
Her success story has also been included in other top-rating books like Real traders, Real lives. Real Money by Eva Diaz and 20 Most Common Trading Mistakes by Kel Butcher. She also contributed a chapter to the book,The Wiley Trading Guide, together with 17 other top traders and mentors. She is featured in the book Ms Millionaire from the same authors of the phenomenal Mr Millionaire.
Justine is a sought-after trading speaker. She regularly speaks at trading events throughout Australia and is often interviewed in the media. Peter Switzer interviewed her on Sky Business News about why women make better traders than men. She has also just completed a podcast interview with Trading Story about trading plans which is due for release on 28 March 2016. To watch and read more of Justine's many interviews, click here.
The woman behind Smart Trading does not forget to give back all the triumphs she has in her life. Not only does she share her trading knowledge at trading meetings and events, she also volunteers her time to mentor teenagers through the Centre for Hope. Justine gets fulfilment in knowing how her students are performing in the markets and assisting them in discovering ways to deal with whatever conditions the market offers.
Where did Smart Trading Start
In 2001, Frank Sellam asked Justine to mentor him about trading. Frank heard Justine talk about her trading experiences at a local trading group meeting when he asked her to teach him how to trade. She took him under her tutelage, shared her trading experiences, shared her trading spreadsheet and educated him on the charting software program she was using.
From then on, by word of mouth, more people wanted her to teach them. She founded Smart Trading in 2003 with the vision of sharing her passion of trading the markets and educating other budding traders to become smarter in the market. The rest is history.
Justine Pollard as seen on The Mortgage Busters & Investment Show Part 1 – September 2016
Find out about Justine's journey into share and property investing and the challenges along the way, which then helped her to develop and hone her trading systems and money management rules so she is able to trade all market conditions that come her way and thrive to become the trader she is today.
Justine Pollard as seen on The Mortgage Busters & Investment Show Part 2 – October 2016
In this second interview Justine delved deeper into charting and why she loves charting. She covered how you can tell if a share is healthy, the four market stages shares move through and how this assists her with her trading decisions.
Listen to Trading Story Podcast: Writing Trading Plans with Justine Pollard – March 2016
Click here to see more interviews
Testimonials appearing on this website are based on individual experiences only and results will and do vary depending on individual circumstances. We do not make any representation that these results are typical and are not necessarily representative of those that have or will purchase our products. Please refer to the disclaimer at the bottom of this web page.

"Thanks for all of your help. It's been a pleasure dealing with you and I know I've said it previously but you do an absolutely superb job. I've recommended you to few people now and I can't speak highly enough of your enthusiasm, knowledge and professionalism. You are a real asset to the greater trading community."
Brent D., VIC



"Justine, I would personally like to thank you for all your wisdom, kindness and compassion you have bestowed upon me through your personal mentoring. You have enabled me to discover new oceans filled with endless opportunities which I never knew existed. I feel forever blessed and honoured to be one of your students."
Pete Wolf-Jones, NSW

"I have studied with a number of trading tutors, but none has given me the confidence I have gained from working with Justine. As an educator myself, I have been constantly impressed with the professional manner in which Justine delivers her training."
Julie Burley, QLD



"Unless you are very lucky and have someone to guide and educate you with trading, you are very much alone. I found Justine while doing a search for trading mentors, I liked what I read, so I phoned her, she explained the programs, and unlike others, was not pushy, and I felt here is someone I can trust."
Gareth Wan, NSW

"There is a saying "When the student is ready, the teacher will appear. When I turned to Justine to refine my Metastock explorations, I actually uncovered an incredible pot of gold filled with a fantastic knowledge and understanding about trading the Stock market. She is schooled in a tradition and style that I felt very comfortable with, and presented at a level that just set my trading knowledge on fire."
Andrew Morton, Christchurch, New Zealand
Click here to read more testimonials and client success stories