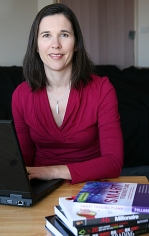 The founder of Smart Trading, Justine Pollard, is a professional share and CFD trader. Justine is extremely passionate about sharing her trading strategies and assisting other budding traders in the markets to succeed. She has been providing education through many different sources since 2002 and has become an established CFD and share trading mentor.
Where it all began
Rich Dad Poor Dad was one of Justine's driving influences to want to take charge of her finances and make her money work hard for her. Her share trading journey started more than 25 years ago at the age of 18 when she invested the savings she had built up as a teenager from her part-time work into the stock market. What started as a hobby grew steadily and then in 2001, Justine left her full-time job to become a professional trader.
Justine is a trend follower who applies strict money management rules to leverage trending shares. Her extensive experience taught her that allowing profitable trades to run, while swiftly cutting losses is the most effective strategy.
Throughout her first year as a full-time trader, she scrutinized the markets, adopting and testing a wide range of trading styles, instruments and techniques. That meticulous process led to the development of a unique trading strategy, combining a long-term share trading system and a medium-term swing CFD trading system. She teaches all her trading systems and strategies in the Ultimate Smart Trading Mentor Course.

Publications
Success was repeated for Justine when she became a best-selling author. Smart Trading Plans is a step-by-step guide to developing a business plan for trading the market.
It's been hailed by leading finance publication, Money Magazine as one of the Top 10 Best Selling Finance Books in Australia.
The story of her success has been singled-out in a series of other reputable investment industry books, such as #FMJ Trust Transition Trade: How Successful Traders Said It, Did It and Lived It by Jane Gallina, Real traders. Real lives. Real Money by Eva Diaz and 20 Most Common Trading Mistakes by Kel Butcher.
Together with 17 other top traders and mentors, Justine contributed to the book The Wiley Trading Guide. She was also featured in the book Ms Millionaire, published by the authors of the outstandingly successful Mr Millionaire.
In the Media
Sought after as a share trading speaker, Justine presents regularly throughout Australia, appearing frequently in the media.
The Sky Business News presenter Peter Switzer interviewed her on the subject of 'why women make better traders than men'.
Trading Story invited her to contribute to a podcast on the subject of trading plans.
She was asked to take part in a two-part TV interview on the Mortgage Busters & Investment Show to share her story and her knowledge about trading.

Media Interviews

Proudly Supports


Justine proudly supports the Centre for Hope through mentoring teenagers at local high schools and by donation to this not for profit organisation.